A recent tweet:
Setback for group seeking `hockey stick' climate scientists' e-mails https://t.co/zVcW2mzdKx

— Kevin Anchukaitis (@thirstygecko) September 19, 2017
Led me to yet another one of those articles which likes to pretend critics of the (in)famous Hockey Stick are just obsessed with one study published twenty years ago, hoping if they can prove it was fraudulent, something, something, something despite all the later work confirming the Hockey Stick was right.
That, of course, is complete drivel. Critics of the Hockey Stick have long criticized many temperature reconstructions and argued the later ones do not validate the original Hockey Stick. In fact, a common point many people have made is that the later work which supposedly confirms the original often uses data from the original. In fact, many later studies took output from the original one and used it as input for their analysis.
(It turns out if you use the results of a study in your calculations, your calculations may well match those of the original study. Who knew?)
Anyway, that's not what I wanted to look at today. That bugs me, but the article made me look at something which I hadn't thought about in some time. When I did a little digging into it, I discovered there was information I had never seen before. It's somewhat interesting.

To make a long story short, in 2008 and 2009, Michael Mann published temperature reconstructions using four proxies taken from Tiljander et al. (2003). He claimed these reconstructions rebutted critics who said his original Hockey Stick was dependent entirely upon a small amount of tree ring data as his new reconstructions were robust to the removal of all tree ring data. It turns out that claim was only true if he used the Tiljander proxies. If not, his conclusions were unsupportable.
This is important as Mann should never have used those four Tiljander proxies. To start, two of the Tiljander series are just derivatives of the other two created by applying some simple arithmetic to the other two series. You can start with two series, do a little multiplication and subtraction and wind up with two new series, but that doesn't mean the two new series have any new information in them.
Double-counting aside, Mann's reconstructions used two different methodologies (EIV and CPS) which both required proxies be calibrated against the modern record. The Tiljander series were taken from a lake where human activity disrupted the area a couple centuries ago. As a result, the people who created the series warned people the modern portion could not be used to represent temperatures. That means the Tiljander proxies could not be calibrated against the modern temperature record. Mann went ahead and did it anyway.
Partially as a result of this, and partially because Mann's methodologies were terrible, some of the Tiljander proxies got used "upside down" in some cases. Whether they were used right side up or upside down depended on the proxy, the reconstruction and the time period in question. Yes, Mann's methodology allowed him to do things like use proxies rightside up from 1000-1500AD then upside down after that.
There's a lot more which could be said about that, but it's a huge mess and I've discussed it all before. For now, hopefully that introduction will help you understand why I chuckled when I saw the article link to this figure taken from the Intergovernmental Panel on Climate Change's latest assessment report: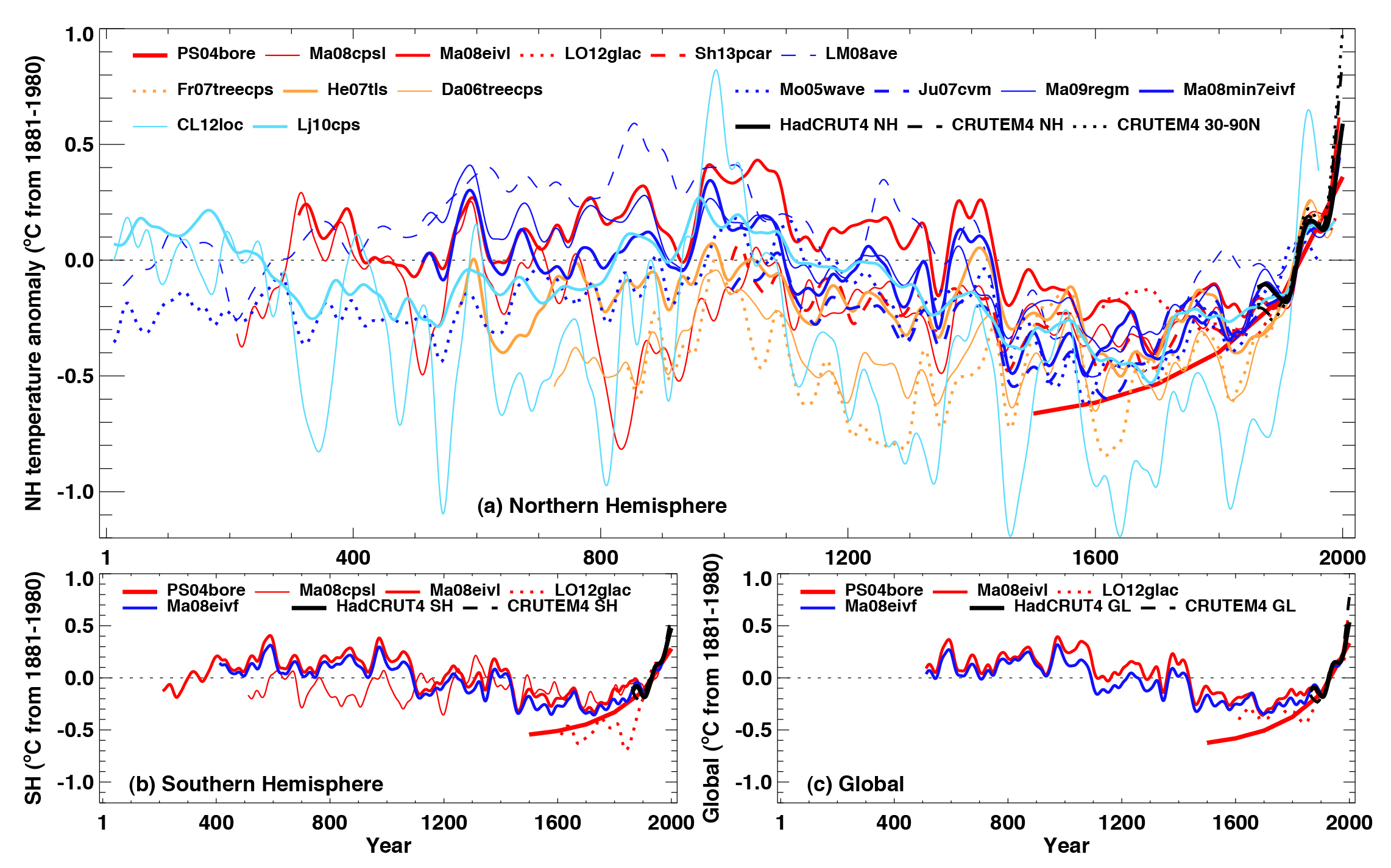 Versions of Mann's reconstructions show up about ten times in this one figure. I was curious what the report had to say about the Tiljander proxies being misused so I did some digging, and that's when I discovered the IPCC has posted explanations of how figures were created and the data used for them. I didn't know that before, and I have to say, I think it's a really good thing for the IPCC to do. They should be praised for it.
There's a lot of information/data to look through, but a couple things jumped out at me which I thought were worth highlighting. First, from the explanation for the figure shown above:
Replaced Mann et al. (2008) EIV-based reconstruction of NH land+ocean temperatures based on their full
network of proxy data, with one from Figure S8b of their supplementary information that used the full
network minus 7 potentially problematic proxy records (labelled "Ma08min7eivf" on the figure; labels
defined in the appendix Table 5.A.6). The 7 dropped records include the 4 from Tiljander et al. (2003)
which have non-climatic disturbance apparent in the most recent centuries
I think it is cheeky to refer to series as "potentially problematic" when it is known the Tiljander series cannot be calibrated to the modern temperature record, but still, this is... somewhat good? I guess? The IPCC used multiple reconstructions from Mann's 2008 and 2009 studies, all of which used the Tiljander proxies. That makes it hard to praise them for deciding to replace one of the reconstructions with a version that didn't use the Tiljander proxies.
More importantly, look at what the explanation goes on to say:
For the remaining Mann et al. (2008; 2009) series, the situation concerning the Tiljander et al. (2003)
records is as follows: (a) NH Ma08cpsl: Mann et al. (2008) SI Fig. S8a shows effect is negligible. (b) NH
Ma09regm: Mann et al. (2009) SI Fig. S8 shows effect is small after 900 CE, and before 900 CE the
version with these series removed is mostly cooler than the version used here. (c) SH Ma08cpls: should
be no effect because these records are in the NH. (d) Global Ma08eivf: graph and data on the following
webpage of Mann's shows that the effect is small, but I have not used this data as a replacement because
this page seems to be an unofficial supplementary information page related to these publications but not
formally published: http://www.meteo.psu.edu/holocene/public_html/supplements/MultiproxyMeans07/ (e)
NH Ma08eivl, SH Ma08eivl, SH Ma08eivf, Global Ma08eivl: Mann et al. have not estimated the effect of
the problematic records on these series.
There are a number of issues with this, including errors, but discussing that would take some time. What I find more interesting is the IPCC chose to use all these reconstructions knowing they used data which is known to be inappropriate. What's even more interesting is this entry in the explanation of another figure:
Mann et al. (2008)EIV "full" (=land+sst) reconstruction with the exclusion of 7 potentially problematic
proxies (4 of which are from Tiljander et al. (2003) sediment cores) could not be used because
uncertainty range data were not available, so the version that included these 7 proxies was used.
That logic is fascinating. The IPCC used the version of a reconstruction which includes data known to be corrupted because they didn't have uncertainty levels on the version of the reconstruction with the corrupted data excluded.
Personally, I think if you don't know how uncertain results are when corrupted data is excluded, you probably won't be able to figure out how uncertain they are by adding that bad data in. Apparently the IPCC disagrees.
(As a final note, the Tiljander proxies were not the only inappropriate series used in these reconstructions. They weren't even the only series used upside down. A number of others exist which were not excluded in any version of these reconstructions.)