Today I am going to discuss something I find confusing, not because it is confusing but because so many people don't seem to understand it. To see what I'm referring to, look at this tweet:
.@curryja @lbergkamp @theresphysics @elmarveerman Attribution is a nearly solved problem, human share is about 110% https://t.co/A8hdr1E3Lg

— Andy Skuce (@andyskuce) November 18, 2016
If you follow the climate debate, you've likely heard this claim before. Part of the global warming debate is figuring out how much influence humans are having on the planet's temperatures. This tweet shows a "mainstream" position, that humans are causing all of it and more. You can find this argument posted in many locations. For one example, you can look here to see an argument humans might be causing as much as 160% of global warming.
I'm not going to delve into that today. People are so polarized on climate issues it seems most people will agree with you if you're on their "side" and disagree with you if you're not. I want to avoid that trap. I want to avoid it because what's wrong with that argument has nothing to do with climate or how it might change. It's entirely about logic and forthrightness.
Put simply, it is nonsensical and misleading to say humans have caused 110% of global warming just as it would be nonsensical and misleading to say Black people caused 894% of Hillary Clinton winning the popular vote in the recent United States presidential election.

You might be wondering what a presidential election has to do with how much humans contribute to global warming, but before I explain, I should point out all results in this post are based on provisional vote counts and estimations. Official, final numbers are not available yet. That said, the unofficial estimates I have say the results are:
Donald Trump		61,500,332
Hillary Clinton		62,842,333
This gives Clinton a 1,342,001 lead in the popular vote. Due to how American presidential elections work, Clinton lost despite that lead, but it is still a sizable lead. People are spending quite a bit of time looking at why she got it despite losing the election. In today's post, I'll try to help those people by showing the contribution to that lead from African Americans was 1040%.
(I hope those people will remember Trump has condemned the American Electoral College in the past for not reflecting the popular vote, going so far as to call it "a disaster for democracy" and calling for a "revolution" when he thought Barack Obama lost the popular vote but won the 2012 election anyway.)
That number may seem a bit difficult to believe. In fact, it might even seem nonsensical. It's fairly straightforward math though. Approximately 16 million black people voted. Of them, approximately 12 million voted for Hillary Clinton and ~1,200,000 voted for Trump.
That means ~13,400,000 more black people voted for Clinton than Trump. If we remember Clinton's lead was estimated as only ~1,342,001, we can do some simple math and find out:
12,000,000/1,342,001 = ~8.94 = ~894%
Simple math, right? African Americans contributed 1040% to Hillary Clinton winning the presidential elections. This is the same reason we can say humans cause 110% of global warming. I'm not going to use exact numbers, but the idea is:
1.1C/1C = 1.1 = 110%
Where we've seen 1 degree Celsius of warming but would expect to have seen 1.1 degree Celsius of warming (again, not the real numbers). The math works out the same whether we use the planet's warming (with warming and cooling influences) or the outcome of a presidential vote (with Clinton and Trump votes).
Do either of these results make sense? I would argue no. They are mathematically valid. If you present them with the necessary caveats and additional information, they may even be useful. They are nonsensical and misleading if you present them on their own though. To understand why, consider the influence Asian voters had on Clinton winning the popular vote.
Approximately 5.25 million Asians voted in the presidential election. Of them, approximately 3.4 million voted for Clinton. Approximately 1.5 million voted for Trump. That means ~1.9 more Asians voted for Clinton than Trump. Do some simple math:
1,900,000/1,342,001 = 1.42 = 142%
And bam! Asians contributed 142% to Clinton winning the popular vote.
What if instead of looking at ethnicity, we looked at religion? Approximately 4 million Jews voted. Of them, ~~2,800,000 voted for Clinton while ~950,000 voted for Trump. That's a difference of ~1,850,000. The math says:
1,850,000/1,342,001 = 1.38 = 138%
Jewish people contributed 138% to Clinton winning the popular vote! They can't hold a candle to the atheists though. For atheists, the math shows:
8,400,000/1,342,001 = 6.26 = 626%
Atheists contributed 626% to Clinton winning the popular vote! With numbers like these, how could Clinton possibly have lost?!
Because this "math" is nonsensical and misleading. Maybe you can properly break down all the demographics of voters in the presidential election, add up all the percentages you get via this "math" and come up with a total of 100%. Maybe you could add in a bunch of large negative percentages for white people, Protestants and other groups that favored Trump over Clinton. Maybe doing so would ultimately tally up to the right answer, that in total, the number of votes cast for each candidate caused 100% of the difference in the votes each candidate received.
I hope you could. Mathematically, that should work. Nobody will do it though. It's a ridiculous amount of work to come up with numbers that have no meaning.
What if it turns out the current estimates of votes are wrong and Clinton only wins by 1,000,000 votes? Every percentage calculated above would go up. It's the same if we redid out estimates of global warming and found there has actually only been .8 (instead of 1) degrees Celsius because natural cooling influences had had more impact than we had thought. Our math would become:
1.1C/.8C = 1.375 = 137.5%
Note, The actual human influence on the planet's temperature in this calculation is the same as before. Humans still had an influence of 1.1 degrees of warming. The only difference is what influence non-human factors had. This math shows the percent contribution of humans to global warming can increase even if we keep the actual human contribution to global warming constant.
Mathematically, that is valid. It's just how percentages work. If there's a period of time in which humans exert an influence of .3C of warming but there is only .15C of warming due to natural influences like volcanic eruptions, the percent contribution from humans is:
.3C/.15C = 2 = 200%
Humans contributing 200% to global warming sounds dramatic. It's nonsense though. If nature had a cooling influence in this scenario in stead of a warming influence (with the magnitude kept the same), we would find:
.3C/.45C = .67 = 67%
This is the "math" used to show humans have contributed 110% to global warming. It's nonsense. Absent information about how much total warming (or how many total votes were cast), these percentages tell us nothing. Saying humans have contributed 110% to global warming is utterly meaningless on its own.
There is even a parallel to how the Blacks, Jews and whatnot vote. Consider this figure from the 2007 Intergovernmental Panel on Climate Change Report: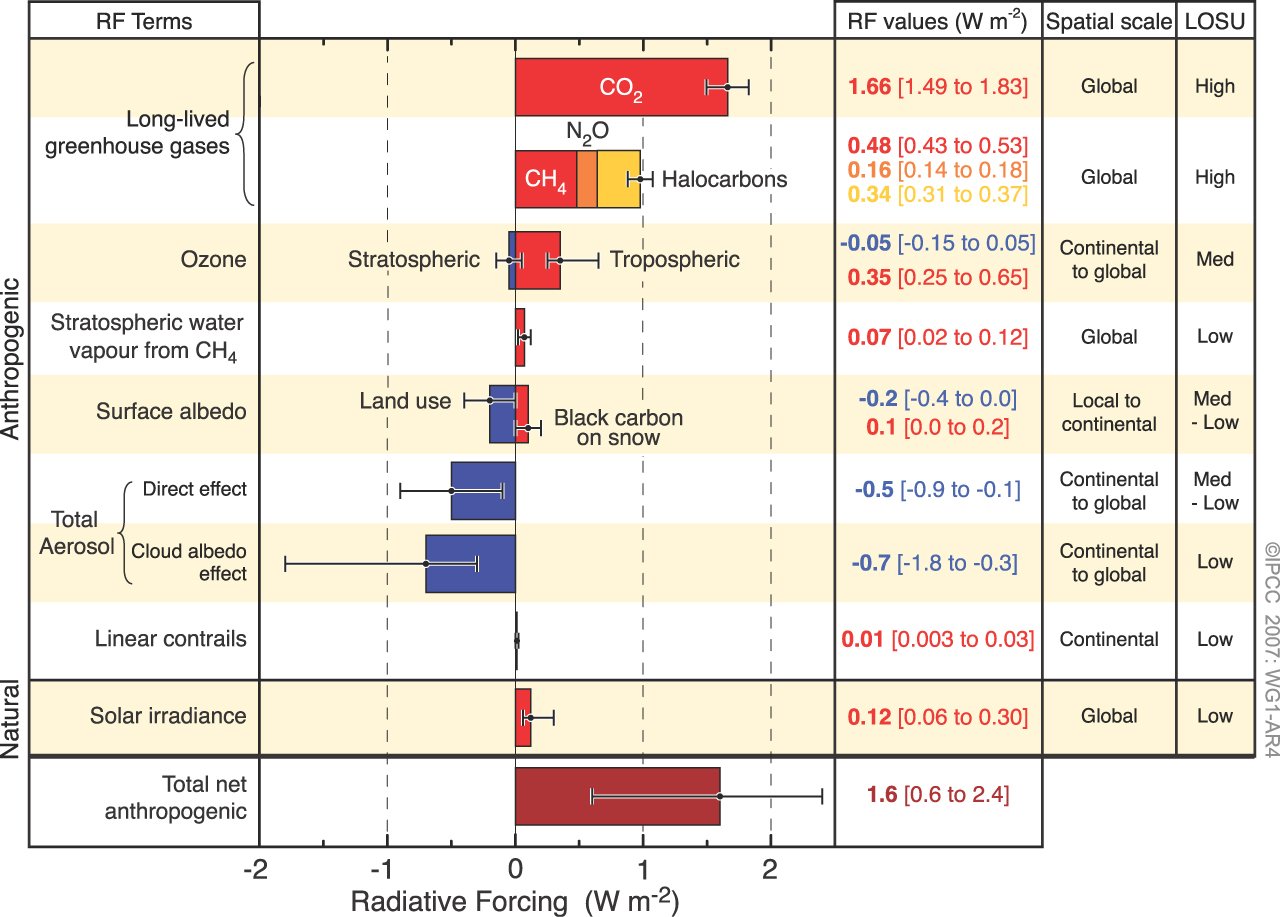 Take note of how there are a number of different factors displayed as contributing to the "Radiative Forcing." That forcing is (in simple terms) what causes the planet's temperature to change. In the presidential election, it is like the difference between the number of votes Clinton and Trump received. What percent contribution do you think each of those factors has on global warming?
I'm not going to do the math. There are more detailed (and more up-to-date) sources we could use if we wanted to do the math, but there's no point. Just eyeballing that chart is enough to see anthropogenic carbon dioxide is causing ~105% and methane ~30%.
If we broke down all the possible influences on the planet's temperature, both natural and anthropogenic, we might find the absolute values add up to 2000%. Maybe it'd be more. I don't know. What I do know is without real numbers, any percentage we might give is meaningless.
Are the numbers used to claim humans are responsible for 110% of global warming correct? I don't think so. I think there are a number of issues with them. That doesn't matter for any of this though. Whether this math says human s contribute 110% to global warming or Jews contributed 138% to Clinton winning the popular vote, it is meaningless.
What matters is how much warming there has been over any given period of time and how much of a warming (or cooling) influence humans have had. If the planet has warmed by 1 degree that is what people should say. If humans have contributed 1.1C of warming influences, say that too.
Only after having done so should anyone say humans have contributed 110% to global warming. It's okay to use that number as shorthand once you've made it clear what it means. If you don't provide that information and the appropriate caveats, a person could easily say:
Yup, I agree. Humans have caused 110% of global warming. I don't care though. After all, the planet has only warmed a hundredth of a degree. What do I care if humans have caused 0.011C of warming?
They'd be wrong, but they wouldn't be any more wrong than the people who grossly over-simplify complex problems to give tidy results like, "Humans have caused 110% of global warming."