So I just submitted a comment over at Judith Curry's blog, on her post about a recent Senate committee hearing titled Data or Dogma. The comment didn't appear, which I figure is due to running afoul of some spam/moderation filter. I figured I'd copy it here because I think the subject merits some attention:
So I watched some of the hearing, and I'll try to watch the rest of it later on. There's one thing I have to say right away though. About two hours in (I skipped around) Senator Ted Cruz displayed two charts taken from Steven Goddard, on the basis they show adjustments to the USHCN data set cause massive changes in its results. That's embarrassing. Those charts are complete and utter bunk, and it is shameful they were used in this hearing, much less that they went unchallenged.

The methodology Goddard used to create those charts is trivially wrong and known to introduce biases in the results. This has been discussed on this very site, with a humorous example of its flaws being that applying it to a global data set (GHCN) instead of just one for the United States reverses the results, finding that adjustments reduce global warming by a significant amount.

And while this point is pretty much indisputable, with any technically oriented skeptic acknowledging Goddard's charts are bunk, Goddard continues to defend them. Today I expressed my shock and displeasure with Cruz using Goddard's charts during the hearing on Twitter. A few tweets later, Goddard tweeted:

@PlancksLaw @Corpus_no_Logos @JunkScience @Foxgoose The plot is completely accurate. Anyone saying otherwise is a fraud..

— Steve Goddard (@SteveSGoddard) December 9, 2015

Zeke Hausfather has written several posts explaining why Goddard's charts are bunk. Steven Mosher has explained the problems with Goddard's methodology as well. Anthony Watts has acknowledged the methodology is wrong. I suspect readers here could think of many other people who have said things like, you have to spatially weight your data or otherwise account for where your data is located so you don't give too much weight to any one area. According to Goddard, they're all frauds.

Goddard says you can just average every station together, without concern for where it is located or what its baseline temperature might be (go ahead and simply average those 30C and 10C areas together). That's the only reason he can come up with the charts Cruz used. And according to him, if you think that's wrong, you're a fraud.
Another reason I decided to copy it here is it lets me delve into the subject more than I could in a comment on someone else's blog. So that's what I'm going to do.

You can find a video of the Senate committee's hearing here:
At two hours in, Senator Ted Cruz shows two charts created by Steven Goddard, who he for some reason chooses not to credit. Here's a screen capture Goddard posted from the video showing the supposed effects adjustments have on temperatures for the United States: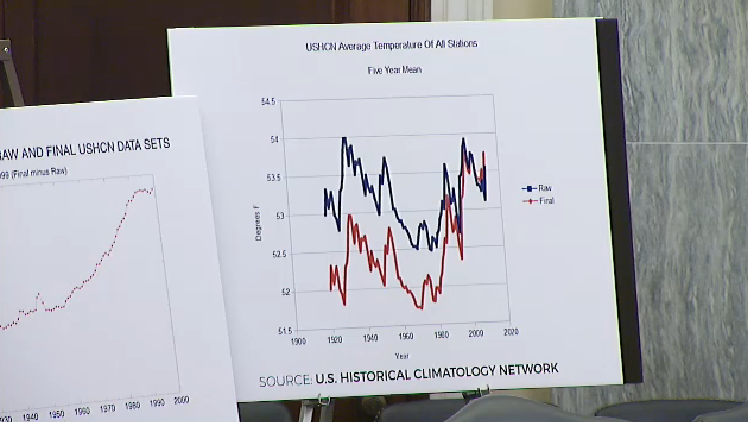 According to that chart, temperatures in the United States were as high in the past as they are now before government officials adjusted them. Ted Cruz offered this chart and the other, saying:
These next two charts are from the United States Historical Climate Network. These are the measurements of the thermometers that are measuring climate change, and these in particular record the adjustments that NOAA [National Oceanic and Atmospheric Administration] has done to the climate data.
Anyone hearing that would probably think these charts were official charts, produced by NOAA or some other government agency. Nobody would guess the charts were created by some pseudoanonymous blogger with no credentials or qualifications who routinely rants and raves about massive frauds committed by the government.
Now, Cruz offered these charts while talking to Judith Curry, drawing the obvious implication of global warming being exaggerated, or perhaps even fabricated, by humans having adjusted the data. Curry responded somewhat admirably, pointing out the difficulties of creating a global temperature record. However, while she mentioned issues like spatial weighting and time of day biases, it appeared she didn't recognize these charts so she couldn't explain much about them, much less point out what was wrong with them.
Another person called to testify had even less of a clue than Curry about these charts, but that didn't stop him from saying far more. Mark Steyn began something of a rant based on these charts:
What has happened since the global warming pause is that the public does not trust the alarmist establishment to tell them what the climate will be like in the year 2050. What that chart shows is why the public is moving to a new position now where it doesn't even trust these federal agencies to tell them what happened in 1950. Or 1920. Or 1900. And that's interesting. If these adjustments are merited... if an adjustment in the official, recorded, observed temperature
I cut the quote off there because I got tired of transcribing what soon becomes a train of thought diatribe against god knows what. Basically though, Steyn goes on to say "that shows you how uncertain things are" and then rants on for a couple minutes about how immigration is the real problem, not climate change, or something like that. I honestly stopped paying attention once he stopped talking about climate change.
The point here is, Mark Steyn, Ted Cruz and to a lesser extent Judith Curry, all accepted as fact that these charts were valid. They aren't. They're complete and utter bunk. They exist solely because some paranoid nutjob on the internet who constantly rants about how global warming is a hoax decided to create some charts even though he has absolutely no idea what he is doing.
Now, normally, I'd be okay with that. I have no problem with inexperienced people trying their hand at things. I actually encourage it. I myself am an amateur when it comes to these things. The difference between Steven Goddard and myself is I am actually interested in the truth. He is only interested in proving he's right.
To see the difference, suppose you and I were wanting to create a temperature record for the United States. Now suppose we only had temperatures for the area we live in. I live in Illinois, and let's say you live in... Florida. We both check the temperatures outside. I find it's 50; you find it's 70. We average that together and say the United States's average temperature is 60 degrees.
Obviously, that's not right. There are tons of areas we don't have data for. Our results aren't going to be very good. Still, they're the best we can do with what we have. Because of that, we keep repeating this process every day for the next year. But then, next year, you move to New Jersey.
Now, when you check the day's temperature, you find it is only 35 degrees. A year has passed, and since it is the same time of year as before, I again find it is 50 degrees outside. We average 50 and 35 together, and the result is 42.5 degrees. Last year we got 60 degrees; this year we get 42.5. Do we conclude the country has cooled by nearly 20 degrees?
Of course not. When you create a temperature record, you have to account for where the data comes from. One simple way of doing this is to use what are called "anomalies." Anomalies tell us how much a value has varied from some "normal" amount. If temperatures are usually ~50 degrees where I live, then today when temperatures are 50 degrees, the anomaly is 0. Tomorrow when the temperatures are 48 degrees, the anomaly will be -2.
It's easy to see how this would impact our approach. Instead of averaging 50 and 70 together when you lived in Florida, if we were both experiencing the "normal" temperature for our area, we'd both have an anomaly of 0. That'd give us the result of an average anomaly of 0.
Now, maybe that 35 degrees for New Jersey was a cold day. Maybe the "normal" temperature there would have been 40. In that case, the anomaly you would have measured is -5. Since 50 is still a "normal" day here in Illinois, my anomaly would be 0. Average those together, and the results is -2.5. That says temperatures are 2.5 degrees colder than they were before, a far smaller amount than the 17.5 degrees we got when we didn't use anomalies.
That is just one thing Steven Goddard got wrong. By using absolute values rather than anomalies, Goddard introduced biases into his results. That's not his only mistake though. Another mistake is related to that one. You'll note, in the examples above, there were only two data points at any given time. That's not very many, and all we did was average them together. But what if you and I knew 50 people in Florida? Would we ask all 50 of them what the temperatures were, then just average all their responses in?
Of course not. It doesn't matter how much data you add for a single area. You can have one temperature station or a thousand in Florida; either way, you still won't know what temperatures are like in California. It's always good to have more data, but you have to account for where the data comes from.
That's commonly done by a thing known as "gridding." What you do is divide your area up into boxes, and you assign each station to a box. You then average all the stations within a given box together to come up with results for that box or area. Once you've done that, you can then average all the boxes together to get your final result.
You don't have to do it that way though. There are other ways to handle it. You just have to pick one. Similarly, you have to do something to account for the fact some areas are just, by their very nature, warmer or colder than other areas. When we're trying to look at global warming, our results shouldn't care that Maine is naturally colder than Florida is.
Steven Goddard doesn't do anything like this. All Goddard does is average every station together, regardless of where it is located and what its normal temperatures are like. And he keeps doing this, no matter how many times people point out it is wrong. It's not like he offers any counterarguments either. When Zeke Hausfather wrote a detailed post examining Goddard's methodology, including graphs showing the effect of including or not including the use of anomalies and spatial weighting, Goddard responded:
The only way that this data tampering could be legitimate is if there has been progressively increasing selective loss of warmer data from the temperature record. That isn't very credible.

http://stevengoddard.wordpress.com/2014/06/06/illinois-manufactured-temperatures-warming-at-23-degrees-per-century/
But didn't say anything else, even as multiple people pointed out his mistakes. The reality is taking a simple average of all stations, irregardless of where they are located or what their local climates might be, is completely wrong and is almost guaranteed to introduce biases. A humorous example of this was provided by Zeke who found:
There is a very simple way to show that Goddard's approach can produce bogus outcomes. Lets apply it to the entire world's land area, instead of just the U.S. using GHCN monthly:

Egads! It appears that the world's land has warmed 2C over the past century! Its worse than we thought!
That's right. Steven Goddard claims adjustments used on data for the United States fabricated global warming out of nothing. And yet, if you apply the same methodology he uses to global data rather than just data for the United States, you find a greater amount of global warming. That is, according to Goddard's methodology, these adjustments have reduced the amount of global warming in the global data.
According to Goddard's methodology, which has been endorsed by both Mark Steyn and Senator Ted Cruz, government agencies have tampered with the data to fraudulently claim the United States is warming when it isn't while at the same time tampering with the data to fraudulently claim the planet is warming less than it is.
This is an example of why members of Congress, and perhaps just reasonable people as a whole, shouldn't rely on random pseudoanonymous bloggers to tell them what is and is not true about the world.